"He who believes in Me, though he may die, he shall live" (John 11: 25)
(من آمن بي و إن مات فسيحيا "( يوحنا 11: 25 "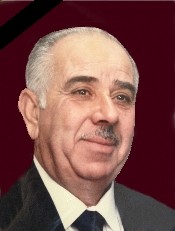 1927-2015

We deeply regret to announce the death of Yousef Hourany (Abu Imad). He passed on Thursday, January 29th, 2015 in Victorville, California.
Beloved husband of Salam Tarrab Hourany

Father of Widad & Elias Zedan, Dalal & Youseff Maleeh, Kawthar & Elias Kassab, Imad & Lena Hourany and Abdallah & Rufka Hourany

Grandfather of Sura Kassab, Housam Kassab, Wayel Zedan, Read Maleeh, Basel Zedan, Souhair Kassab , Imad Maleeh, Jennifer Hourany, Joe Hourany , George Hourany , Georgina Hourany and Joseph Hourany

Great Grandfather of Valerie, Tony, Joseph, Christopher, Chelsea, Rheanna, Vienna and Louie
Condolences will be accepted at Saint George Church Social Hall on Monday, February 2nd & Tuesday, February 3rd, 2015 from 6:00 to 10:00 pm.
925 Harding Ave
San Fernando, CA 91340
Contacts
Home: (760) 843-9709
Imad Hourany: (760) 792-1215
Abdallah Hourany: (760) 792-7995
The Funeral Service will be held at 11:00 am. on Wednesday, February 4th, 2015 at Saint George Syrian Orthodox Church in San Fernando
925 Harding Ave.
San Fernando, CA 91340


May God rest his soul in peace, Amen.

ننعي إليكم بمزيد من اللوعة و الأسف وفاة السيد يوسف حوراني (ابو عماد) المنتقل إلى رحمته تعالى يوم الخميس الواقع في 29 كانون الثاني 2015 في مدينة فيكتر فل بولاية كاليفورنيا

تقبل التعازي في صالة كنيسة مار جرجس يومي الإثنين و الثلاثاء في 2 و 3 شباط 2015 من الساعة السادسة حتى العاشرة مساء على العنوان
925 Harding Ave
San Fernando, CA 91340
أرقام الهاتف
| | |
| --- | --- |
| (760) 843-9709 | منزل الفقيد |
| (760) 792-1215 | عماد حوراني |
| (760) 792-7995 | عبدالله حوراني |

هذا و ستقام مراسيم الجناز يوم الأربعاء الواقع في 4 شباط 2015 الساعة ١١ صباحا في كنيسة مار جرجس للسريان الارثوذكس في مدينة سان فرناندو على العنوان
925 Harding Ave.
San Fernando, CA 91340

رحمه الله و اسكنه فسيح جناته